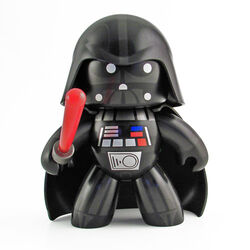 Darth Vader was a Mighty Mugg in Star Wars waves 1 and 6, and was also featured in the first wave of Mini Muggs.
Variants
Edit
Darth Vader has many factory errors. His most common is the " 4 eyed" variant. The second, a "2 eye" variant, has only 2 shines in his eyes and a much more silver paint job. The third, the "3 eye" variant, is the most rare. In one eye, he has two shines. In the other, he has one.
Accessories
Edit
Darth Vader comes with 3 accessories. A removable top of a helmet. a cape, and a red lightsaber. The second version of this Mugg includes a head which rotates to reveal a scarred face, and includes a removable hand. The Miniature version includes the removable helmet and cloak, with the Lightsaber attached permanently.
Ad blocker interference detected!
Wikia is a free-to-use site that makes money from advertising. We have a modified experience for viewers using ad blockers

Wikia is not accessible if you've made further modifications. Remove the custom ad blocker rule(s) and the page will load as expected.